Discussion Starter
·
#1
·
Hi all,
Just collected my spanking new Tarraco yesterday - my first ever Seat. This is the wife's fourth though so they must be doing something right. It's an FR with pano roof and the 1.5 petrol DSG. I must say having spent years driving Jags, BMs and Mercs this is a breath of fresh air. Plenty of toys that come as standard, it's a lovely drive and there's not a bazillion of them on the roads. Loving it.
The instruction manual I've been given (and the online version) seems to refer to a separate stalk controlling cruise and ACC, whereas I have the multifunction steering wheel. Consequently I can't suss out how to disable cruise once set, without tapping the brakes. Any ideas? EDIT: Found it. There's a supplement hidden away in the car for the FR steering wheel referring to the extra controls. All sorted now.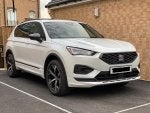 So far I've worked out the reverse dip mirror, (despite the instruction manual being written for LHD cars!) and updated the maps. Spec wise the only thing I'm really missing is a reversing camera, so I'm on the hunt for someone to fit me one. I could do it, but really don't fancy dismantling a brand new car. Happy to live with just park pilot and the sensors for a while though.